Have you made the switch?
I am a dog food nut! Between my mom (Rhonda) and I (Jordan), we own six dogs. The two bullies (Bronx and Capone) have food sensitivities. If given grains or poultry, their skin starts to inflame and get red. They begin to itch like crazy; Creating numerous hot spots and skin inflammation. Now the Golden Retriever (Rue) has stomach issues and needs to be careful with his proteins. However the other three bullies (Compton, Harlem and Pocket) literally can eat anything (our garbage disposals haha).
Through the years, I have tried Numerous different dog foods. I have had had them brands including Horizon/Pulsar, Canidae, Acana, Purina, Under the Sun, Grandma Lucy's and Raw (just to name a few). Every kibble just didn't sit right with either a few of the dogs or all of them. I noticed dull coats, excesses shedding and bald spots. They became lethargic and seemed to either lose weight or gain it. Their overall body odor changed and their breath reeked. My oldest bully, Harlem even began to have simple seizures (also known as fly biting syndrome). When I introduced him to Under the Sun-Lamb (as soon as I took him off the food he never experienced another one). I do admit; All the dogs did amazing on Raw (had them on raw for about 3 years), however with having a toddler in the house who loves to interact and feed the dogs, raw became a no go. This is when I began my research into dog foods. Begining my research I had some specification; I knew I wanted a dog food that
Had a variety of protein options (I believe in rotating their proteins),
Was high in protein
Contained "good carbs" aka complex carbs.
Affordable
Hello Boreal…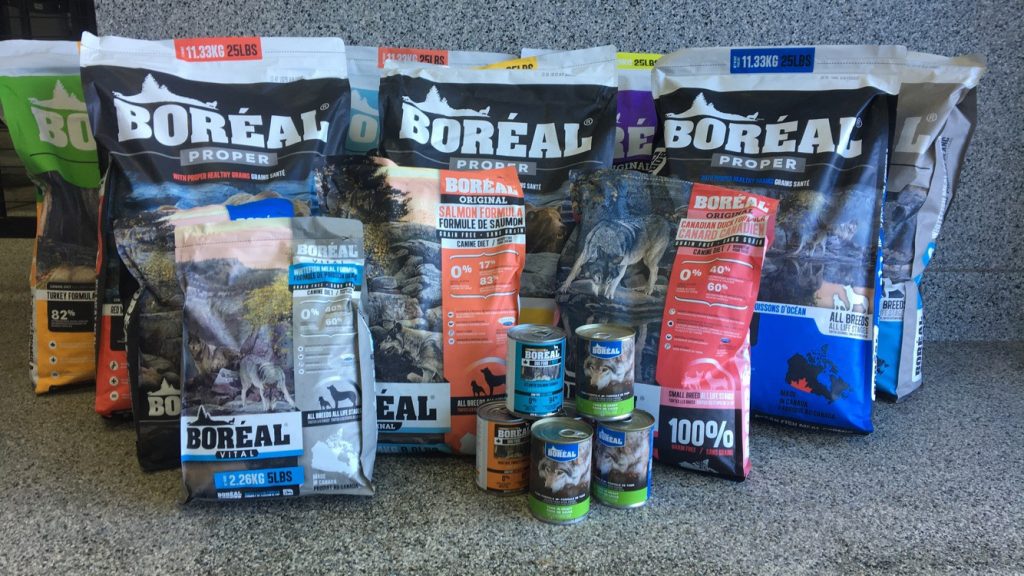 My research led me to the Boreal Brand. Two brothers (Dan & Hugh) started Boreal with the thought in mind of "going back to the basics". Basically eliminating the ingredients that are leading to high blood sugars and diabetes and feeding dogs what they would eat in their ancestor days.
" We are trying to reduce the wrong kind of carbohydrates and really focus in on low GI – glycemic index – starches. By basing our foods on low GI foods like peas, beans and single protein meat sources we think your pet will feel full longer after they eat and the diet will help keep blood sugar levels from fluctuating. Add in the right amount of exercise and we think this is a smart way to feed your pets. " (Boreal Website).
To Sum it up
The Boréal line of pet food is formulated to provide a balanced and healthy diet similar to what dog ancestors ate. Providing your pet with food that contains only low gylcemic ingredients (meat, peas, beans and good grains) that take your dog longer to digest (also, that don't spike blood sugars), will go a long way to helping them live a long healthy life. I have had all six dogs on Boreal for a year now, and all six are thriving! We personally avoid the chicken and turkey proteins (due to Bronx and Capone's allergies), and rotate between Red meat, Lamb, White Fish, Ocean Fish and Salmon.
It's time to make the switch! Stop by to pickup some samples or try a bag. (403)945-8834 Bay 10, 25 East Lake Circle, Airdrie, Alberta