We here at Four on the Floor thrive on providing only the best for our furry companions. Which means we made a switch to 100% all natural products, produced by the one and only Melanie Newman.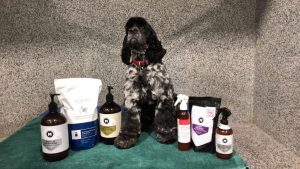 The results are in! Our groomers are dying of excitement over the results of Melanie Newman's grooming products. The key ingredients such as Aloe Vera and Essential oils are leavings the dogs coats squeaky clean, super soft and manageable, healthier and smelly extra fresh. There is literally no comparison!
Us dog owners can now say goodbye to;
Parabens and SLS, petrochemicals and synthetic perfumes.
I bet you are wondering what the benefits are to this amazing new product? Well let me tell you! Melanie Newman has a variety of different product lines catering to specific breeds and coat types.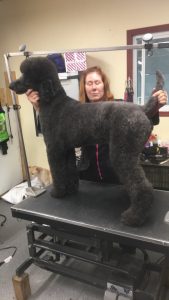 The Refresh Collection was designed to cater to the working dogs who need a bit extra moisture in their coat (both for short coats and double coated dogs). The rich avocado oil helps replenish dry brittle coats and skin. The citrus and lemon myrtle leaves the coat thoroughly cleansed without stripping the natural skins oil, and leaving your dog smelling fresh for weeks. The lemons also acts as a natural whitener (bonus!).
The Relax Collection contains ingredients such as Lavender, Geranium and Bergamot. You guessed it…Lavender is a natural de-stresser (our dogs deserve to unwind too) and great for sensitive skin! Aloe Vera leaf juice helps strengthen the coat and skin, while Geranium and Bergamont leave the coat shiny and fresh.. This line was designed for curly haired and short-to-medium coat types.
The Purify Collection (our groomers go to) was formulated for all coat types. The combination of Charcoal, Sandalwood and Lavender acts as a natural whitener, replenishes the skin, removes toxins and pollutants from the coat (good bye odors), adds volume and gives a boost of Vitamin E
Oh the choices we now have as pet owners!
Let us pamper your pet…call us to book your dog's next grooming appointment (403)945-8834